FIRE POLICE MISSION STATEMENT

It is the mission of this Bowmansville Volunteer Fire Association Fire Police Squad to provide a safe area for members while working on roads and highways. This will be accomplished by blocking roads as necessary with cones, traffic control signs, or emergency vehicles. The safety of our members is the most important factor. If detour of traffic is not possible, traffic will be stopped until it is safe for our members before traffic is allowed to drive through our scene.
Richard Reese Wins Award at Convention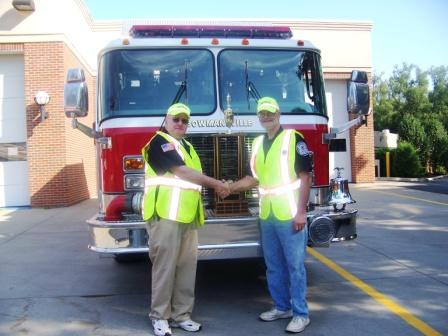 Richard Reese being congratulated by Bill MacPeek after winning the Western New York
Firemens Association Fire Police Competition at the Western Convention
Bowmansville Fire Police Officers
Fire Police Captain
Fire Police Lieutenant
Fire Police Lieutenant
. . . . . . . . .
. . . . . . . . .
. . . . . . . . .
Derrick Jentsch
Daniel Stachelski
Anthony Suchyna


Bowmansville Fire Police Squad

Derrick Jentsch
Walter Konsek
William MacPeek
Molly Prell
Richard Reese Jr.
Gary Schroeck
Daniel Stachelski
James Ward
Donald G. Bleistein



Douglas W. Chapman


Walter Konsek

Carl W. Meyers

1991-1992 President of Erie County Vol. Fire Police Assn.
1996 Erie County Vol. Fire Policemen of the Year
Southwestern Association of Firemen Fire Policemen of the Year

Southwestern Association of Firemen Fire Policemen of the Year Erie County Vol. Fire Policemen of the Year
Director of Clarence/ Newstead Fire Police Association

Director of Erie County Vol. Fire Police Association

2002-2003,2007 President of the Erie County Vol. Fire Police Assn
WNYVFA 2004 Fire Policemen of the Year
Southwestern Association of Firemen 1998 Fire Policemen of the Year Director of Clarence/Newstead Fire Police Assn
Director at Large of VFPASNY 2001-Present
VFPASNY 2007 Director at Large of the Year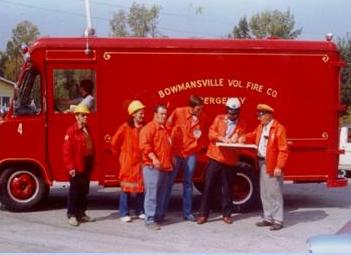 1978 First Fire Police Vehicle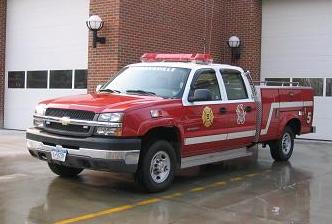 Present Day Fire Police Vehicle



Donald G. Bleistein
Memorial
Fire Police Award

~ ~ ~ ~ ~ ~ ~ ~ ~

This Award is Presented
In Memory of Donald Bleistein
For his Many Years of
Unselfish Dedication To The
Fire Police Squad of
The Bowmansville Vol. Fire Association

~ ~ ~ ~ ~ ~ ~ ~ ~

We Honor
The Following Members
Of The Fire Police Squad
In The Tradition of Don





Award Recepients



THE FAMILY OF
DONALD G. BLEISTEIN
2001



JAMES
GASKIN
2002



CARL W.
MEYERS
2003



DOUGLAS W.
CHAPMAN
2005



ANTHONY
SUCHYNA
2006



WILLIAM J.
MACPEEK
2007



ANTHONY
SUCHYNA
2008



HAROLD
WOLF
2009



GERRY
GUERRA
2010



DANIEL
STACHELSKI JR
2017



RICHARD
REESE
2022








Back to top